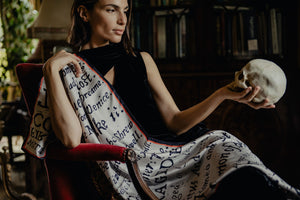 First Folio 400: A Tribute to Shakespeare
Next year will mark the 400th anniversary of Shakespeare's First Folio. Published seven years after his death, the First Folio is a valuable literary treasure, it includes 36 plays and was compiled by two of his friends and fellow actors, John Heminge and Henry Condell. 
If they had not committed to collecting the works for the book, modern day experts on Shakespeare's life and work have stated that half of all of his plays (including Macbeth, Twelfth Night, As You Like It, The Tempest, and Antony and Cleopatra) would have been lost forever.
The First Folio was printed in London and published in an edition of around 750 in November 1623. Just over 230 copies have survived to this day.
To celebrate this wonderful book and all things Shakespeare I have made the First Folio the theme of a new capsule collection.
Available from my website, the new additions feature bold colours, dramatic linocut designs and includes two long scarves, two square scarves, a pocket square, and a hand fan (made in collaboration with Rockcoco Fine Fans).
Resplendent in black, gold, red, and grey, the new prints feature the titles of Shakespeare's plays, references to the First Folio's publication date, Shakespeare's birth and death years, and his portrait, as well as figures dressed in Elizabethan costume, and recurring motifs in the plays, including a rose, crown, dagger, skull, and quill pen.
As well as celebrating the anniversary of this hugely important book and recognising Shakespeare's enduring legacy as a playwright and poet, these pieces serve as a 'thank you' to Heminge and Condell for saving so much of Shakespeare's work for future generations.
I am especially excited to share the campaign images for this collection. The location for the shoot is Garrick's Villa, a Grade I listed country house on Hampton Court Road, Richmond-upon-Thames, which was owned from around 1754 by the renowned Shakespearean actor and theatre manager, David Garrick (1717-1779). The photographs were taken in Garrick's Chinese drawing room which was designed by celebrated eighteenth century architect Robert Adam and overlooks grounds laid out by Lancelot 'Capability' Brown and Garrick's Temple to Shakespeare. 
Garrick's Villa is in private ownership so it was a particular privilege to be granted access and I am forever indebted to current chatelaine Boudicca Scherazade for so generously opening her home to me. 
Names like Robert Adam, Lancelot 'Capability' Brown and David Garrick are icons of the eighteenth century, the century with I am most draw to aesthetically so this was like all my Christmases coming at once! 
The 'First Folio 400' scarves, pocket square, and hand fan have made a dramatic entrance into my collection, and I hope that they will appeal to Shakespeare lovers, theatre goers, and anyone who enjoys adding a theatrical flourish to their favourite outfits.
The collection is available to purchase online here and will soon be available in store at The British Museum, The National Theatre, The Royal Opera House and Westminster Abbey. 
Photographer: Anne Schwarz. 
Model: Anastasia La Sala. 
---