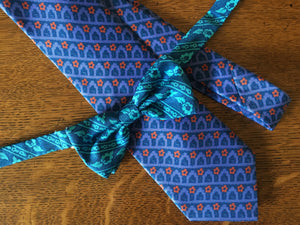 Iznik Ceramics: Rory Hutton X The Burrell Collection
Next week Glasgow's impressive Burrell Collection will reopen its doors after an ambitious  six year refurbishment project. 
Gifted to the people of Glasgow by shipping magnate and art collector William Burrell (1861-1958), this vast collection spans millennia and represents artifacts from all over the world. Typical of collectors of his generation Burrell had an encyclopedic approach to collecting and an unquenchable curiosity and thirst for knowledge, but far from being entirely retrospective Burrell's collecting interests also encompassed the most cutting edge contemporary art of his day, hence many fine examples of drawings and paintings by the French Impressionists are to be found at the Burrell Collection.
I had the pleasure of living in Glasgow for four years and have a particular love of this great city. It was in Glasgow that I began my business and received so much support. The opportunity to work with one of the cities most beautiful museums felt particularly significant to me.

For this project The Burrell Collection asked me to design a range of silk accessories for men and women inspired by the museum's collection of Iznik ceramics.

These bright and boldly painted artifacts continue to captivate connoisseurs today just as they did in Burrell's lifetime, my interpretation aims to capture the bright energetic appeal of far away lands and blue skies that inspired early collectors.
Reinterpreted through linocut the lively abstract florals synonymous with this type of pottery are given a contemporary twist with bold block colours.

The collection includes three silk scarves, a silk bow tie and a silk tie. Available exclusively from The Burrell Collection Shop.

The Burrell Collection will reopen to visitors on Tuesday 29th of March. The perfect excuse to visit Glasgow.
---