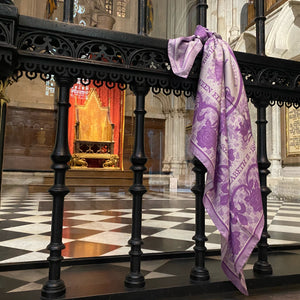 Platinum Jubilee Scarf: Rory Hutton X Westminster Abbey
I was beyond excited when an email titled 'Platinum Jubilee' landed in my inbox last October. It was a commission from Westminster Abbey to design a scarf commemorating Her Majesty's 70th year on the throne and to celebrate her special relationship with the Abbey. It doesn't get much grander than this! 
I have designed many scarves inspired by iconic historical figures including Elizabeth I but the opportunity to design a scarf commemorating one of the most iconic living people is a particularly special honor.
Focusing on the Coronation chair I created a series of linocuts inspired by the chair's iconic shape and its ancient decoration featuring acorns, oak leaves, martlets and graphic checkerboard banding, only fragments of this original giltwork decoration remain on the chair which must have looked even more spectacular when first conceived.
The impressive Saint James Crown is also featured on the scarf alongside Tudor roses, shamrocks and thistles, reminiscent of the embroideries on the Coronation robes. Purple was the obvious choice being the official jubilee colour. The scarf commemorates the occasion with the dates 1952-2022 emblazoned on its four sides.
The resulting scarf is a classic 90x90cm silk square with rolled edges. The perfect souvenir to commemorate this historic occasion. Available exclusively from the Abbey's onsite shop and online here.

Rory X
---