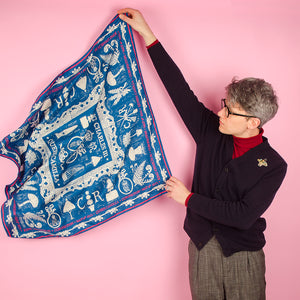 From Medieval Tiles to Highgrove Gardens: Designing Scarves for King Charles III's Coronation Celebrations
I've had an incredibly productive start to 2023, having been commissioned by three British institutions to design their official King Charles III Coronation scarves. As Noel Coward once said, "I couldn't have liked it more!".
Royal commemorative scarves have a rich history, and I'm thrilled to see my designs join this distinguished lineage, which includes some of my favorite designers from the past, like Oliver Messel (1904-1978), whose whimsical creations I've long admired.
The scarves I've been working on are for three different places, each with a unique identity and connection to royalty: Westminster Abbey, the home of coronations; Highgrove, the King's private residence; and The National Portrait Gallery, which houses centuries of royal portraiture.
King Charles III Coronation Scarf for Westminster Abbey
Designing scarves that captured the essence of each place while representing the new reign was a challenge, but a delightful one at that. The scarf for Westminster Abbey features a background of oak leaves and martels, similar to those which decorate the coronation chair. The borders are filled with linocut renderings of the Abbey's medieval tiles, all overlaid with heraldic animals and plants symbolizing the four countries that make up the United Kingdom.
Highgrove Coronation Silk Scarf
The Highgrove scarf takes a more personal approach, drawing inspiration from the gardens His Majesty has created. It features iconic Highgrove motifs of topiaries, delphiniums, and ferns, and is the only one of the three scarves to include the Royal cyphers of HM the King and HM the Queen Consort.
Coronation Scarf for National Portrait Gallery
For the National Portrait Gallery, I created a design inspired by a family tree, starting with Henry VII and listing all the monarchs leading up to King Charles III. All of the Kings and Queens listed are represented in the gallery's collection.
It's been a pleasure to create these special designs, which will join a growing collection of royal and noble scarves in my archive. Previous examples include scarves inspired by Louis XIV and Marie Antoinette for The Wallace Collection, King Ashurbanipal for the British Museum, Madame de Pompadour for The French Porcelain Society, Elizabeth I, The Platinum Jubilee, and Elizabeth II, all for Westminster Abbey.
Rory X
---