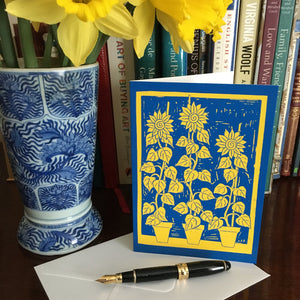 Rory Hutton X Pushkin House for Ukraine
Outraged by the situation in Ukraine and in an effort to support its people during this dark time I have joined forces with my friends from Pushkin House to design a notebook and set of greetings cards, together we hope to raise funds for humanitarian relief and creatives living in Ukraine.

Founded in 1954 Pushkin House is the United Kingdom's oldest cultural center and from its inception has been a meeting point for intellectuals and creatives. Located in the heart of Bloomsbury, London's most celebrated bohemian neighborhood, the organisation historically focused on Russian culture and strove to celebrate the cultural exchange between Russia and the UK, often during very difficult times politically, proving that the arts are a force for good and can unite people. Pushkin House is in no way affiliated with the Russian government and has been using its platform to speak out against the current military aggression in Ukraine.

Sunflowers linocut for Ukraine
For this collaboration I created a linocut inspired by the colours of the Ukrainian flag and the sunflowers for which the country is so famous. Sunflowers are one of my favorite flowers, they have featured in at least two of my designs previously. They are such joyous flowers you cannot help but feel optimistic when surrounded by them, but they are not delicate, unapologetically they face the sun supported by robust stems, the perfect flower to represent the people of Ukraine.

Greetings Card and Notebook for Ukraine
Art printers King & McGaw very kindly sponsored the production of the greetings cards and notebooks and I did not charge any design fees, allowing Pushkin House to raise even more money for this worthy cause.
Proceeds raised from sales of these items will go to the Support for Ukrainian Cultural Workers Fund which specifically helps Ukrainians working in the cultural sector.
Greetings Cards for Ukraine
Notebook for Ukraine
Packs of 6 notecards and notebooks are available to purchase through the Pushkin House website here. Purchases can also be made on site at the Pushkin House Bookshop and the products will be selling at forthcoming Pushkin House events, while stocks last! 
Rory X
---