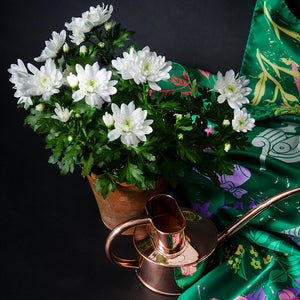 Potting Shed Chic: The Garden Collection
Vita Sackville-West once said 'Flowers really do intoxicate me', this is a sentiment I can certainly agree with. 
Back in 2020 I set myself a lockdown project responding to the work of my favorite female gardeners of the twentieth century, Bunny Mellon, Lady Rhoda Birley and Vita Sackville-West. These women of means managed to landscape, plant and prune with sartorial panache. Bunny enjoyed gardening attire by Balenciaga and Givenchy, Vita preferred farmhand chic in breeches and gaiters (always with pearls), while Roda favored jaunty straw hats with whimsical scarves.

Originally conceived to keep me sane while locked up in a small London flat without a garden, this project turned out to be one of the most enjoyable I have undertaken. Through these designs and the women who inspired them I have met many fabulous people including enthusiastic gardeners and garden historians and even won a commission from Compton Verney to design a scarf inspired by their Capability Brown landscape. This spring I am adding three new garden designs to my Garden Collection and this time the flowers take center stage.
The first scarf in this trio is called Vita's White Garden and features the above quote together with another of my favorites from Vita Sackville-West, 'Still, no gardener would be a gardener if he did not live in hope'. 
Vita Sackville-West designed a white garden at her home, Sissinghurst Castle in Kent. I've always been drawn to this idea, a white garden is as much a study of green as it is of white and I can't imagine anything more calming than being surrounded by the subtle beauty of white and green on a summers day. The garden Vita created is now iconic and widely regarded as one of the first modern gardens in Britain.

Formal parterres and knot gardens dominate the center of this design and are surrounded by an array of white flowers in bloom. I have poured my longing for such a space into this design.
Gertrude's Garden is the next scarf I am adding to the Garden Collection. This design draws inspiration from garden designer Gertrude Jekyll. Influenced by the Arts & Crafts movement Jekyll created some of the most celebrated Edwardian and early twentieth century gardens. Particularly noted for her explosions of colour, Jekyll had a painterly approach to her gardens and her work can be found throughout the British Isles and further afield. A keen plantswoman, Jekyll began collecting and cultivating plants at a young age, sourcing interesting specimens from the wild as well as ancient cottage gardens.
This is the most colourful design I have ever attempted, Jekyll has inspired me to be brave! The flowers featured were all used by Jekyll in her schemes. The garden bench at the center is in a style favored by renowned architect Edwin Lutyens. Lutyens was a great admirer of Jekyll's work and they regularly collaborated, her designing the gardens to compliment his buildings.
The cat seated on Lutyen's bench is a nod to Jekyll's love of feline company, she even included a chapter titled 'Pussies in the Garden' in her 1908 book, Children and Gardens.
Lastly we have a scarf titled Temple of Flora. An ode to Flora, Roman Goddess of flowering plants this design has been in the pipeline for almost two years, the central image of flora made an appearance in my Manor Garden Scarf from the original lockdown collection. In this design Flora takes center stage. Holding a garland of flowers she stands in a classical temple. 
A vibrant red and pink scarf, the colours of roses. Flora's temple is surrounded by formal parterre and knot gardens with ornately scrolling ironwork marking the perimeter.  The outer borders are filled with a joyful abundance of flowering specimens.
Other features within the garden include a dovecote, birdbath, potted orange tree, a sundial and elegant tulipieres. In front of the temple we can see the gardener's dog together with her abandoned sun hat and watering can.
I hope these scarves will inspire sartorial gardeners everywhere and become the accessory of choice for tea on the lawn or an afternoon spent weeding and pruning! 
Check out the full Garden Collection here.
Rory X
---